Hilo Firmware 6 Features:
Remote Control via Mac or Windows computers, iPad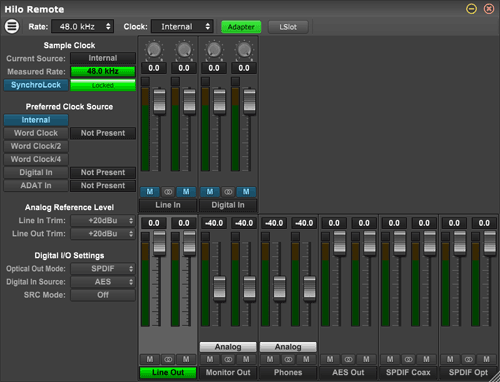 Maybe the #1 request from Hilo end users.
You will now have the ability to fully access all of the volume controls and level meters of the Hilo from a computer. This includes a greatly expanded version of Hilo's "All Meters Page" with added functionality. A very useful tool for monitoring and setting the routing in Hilo. The Hilo Remote Control application is initially available for download on Windows and OS X, with an iPad version available on the Apple Store as soon as it is approved by Apple.
Simplified Menu set added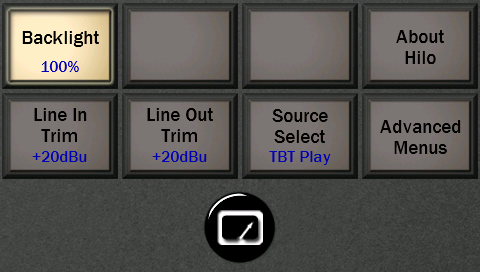 An excellent addition for all owners of Hilo's with multiple users. Especially useful for audiophiles.
We call this the "Standard" Menu. Selectable from the Display Page, the Standard menu provides a much simpler interface for the most used functions using the Default settings. The only available controls are Backlight control; Line In & Line Out Trim; About Hilo; Meter selection and the new Source Select option described below. To return to the previous full menus, simply press the 'Advanced Menus' button.
New Source Select option in Standard Menu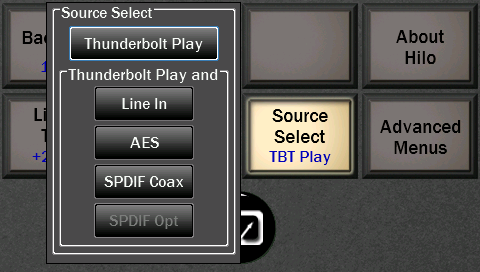 This new option allows for simple routing of the audio coming from the host computer (USB Play; Thunderbolt Play...) to all physical outputs. In addition, a single source may also be mixed with the host computer audio from the Line In or any one of the digital inputs. This duplicates the basic features of the Output Mix Routing Page and Digital In Source Selection. Please note that the ADAT I/O is disabled in this mode.
Support for the LT-TB Thunderbolt LSlot card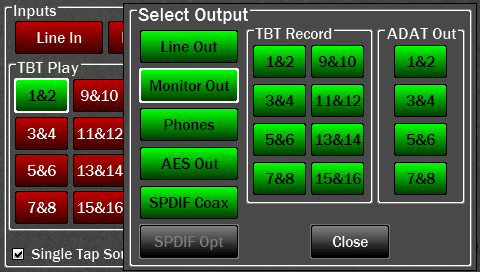 Provides full functionality and labeling for LT-TB Thunderbolt Interface. Changed channel names from USB Play and USB Record to Thunderbolt Play (TBT Play) and Thunderbolt Record (TBT Record). Up to six Hilo-TB converters (or mix of Hilo and Aurora TB converters) can be connected on a single Thunderbolt port, Windows and OS X certified.
New Knob Settings for additional Volume control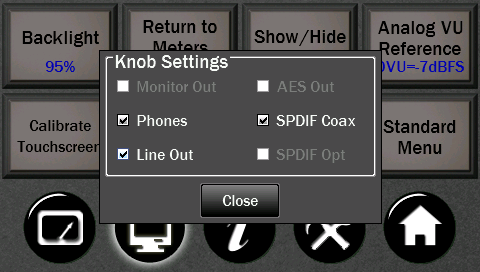 This is another option that has been suggested by many Hilo owners.
Located on the Display Page, the new Knob Settings function allows the user to adjust the volume of any of the stereo outputs from the rotary encoder. A maximum of 3 outputs may be selected at one time. Pressing the rotary encoder will toggle between the selected outputs. Previously only the analog Monitor Out and the analog Phones volumes were able to be controlled from the rotary encoder. Now the following digital volume controls may also be selected: Line Out; AES Out; SPDIF Coax Out; SPDIF Opt.
Support for LT-HD ProTools HD Interface
We have had a lot of requests for use of Hilo in a Pro Tools HD systems. This is now implemented. Channel names will show up as PTHD Play and PTHD Record. Please note that Hilo firmware update is not possible using a LT-HD card since it has no MIDI interface. LT-TB, LT-USB or LT-FW may be temporarily installed to update the Hilo firmware, if required.
Support for no LSlot Interface
The version removes all references to LSlot channels if no LSlot device is detected. Please note that it would not be possible to update the Hilo firmware without an LSlot device.
New Show/Hide Settings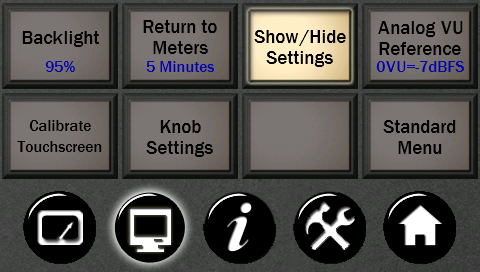 Three separate button functions from earlier firmware have been combined into a new single control. This button pulls up a popup dialog box to easily add or hide Sample Rate and Sync Source information as well as Recall Scene button to the Horizontal and VU meters pages.
Other Features, Functions and Fixes
• Output Mix Routing Page: Source Channel Select function 'Sum' changed from -3.0dB to -6.0dB attenuation.
• Dither enabled when digital volumes are active.
• Mute ADAT In or USB Play sources if the inputs for those devices are not locked. This prevents any signal from those channels appearing as audio anywhere within Hilo.
• Added Support for LT-FW FireWire Interface.
• Removed LT-USB Mode (8 or 16 channel operation) from Tools Menu if LT-USB is not installed.