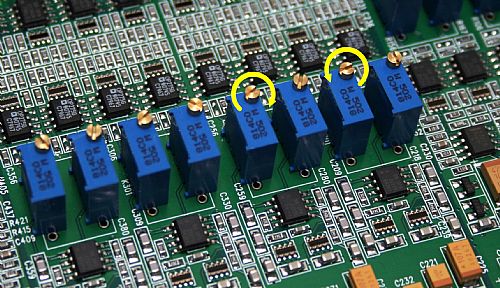 THE VARIABLE TRIM MODEL IS NO LONGER IN PRODUCTION. THE AURORA 16 IS A GREAT SUBSTITUTE
Aurora 16-VT allows users to manually set the analog input and output levels within a range of +8.5 dBu to +24 dBu. 32 miniature trim pots are mounted on the primary circuit board to allow the adjustments.
Since 2004, Aurora has established its position as one of leading high end converters for recording studios around the world. Some studios, that wanted to gain the advantage of Aurora's pristine audio quality and versatility, also required the ability to manually set the levels for optimum performance. The Aurora 16-VT provides this capability, while preserving Aurora's other features, specifications and signature transparent sound.
Aurora converters are preconfigured for three voltages. Aurora 115 volt models are available in the US, Canada, Mexico and Brazil. The 100 volt models are available in Japan only. 230 volt units are available throughout the rest of the world through authorized distributors and retailers.
Features of the Aurora converters include:
Analog input and output levels can be set between +8.5 dBu and +24 dBu
24 Bit / 192 kHz Mastering Quality A/D and D/A conversion
192 kHz AES/EBU I/O Supporting Single and Dual Wire Modes
Single Rack Space Configuration
Extensive Remote Control Capability via Lynx AES16, IrDA, FireWire and MIDI
On-board 32 Channel Digital Mixer Provides Flexible I/O Routing
Word clock I/O with Lynx SynchroLock™ Sample Clock Technology
Connectivity via PCI, PCI Express with AES16 cards, ADAT, ProToolsHD, MADI, USB 2.0 and Thunderbolt
Accessories