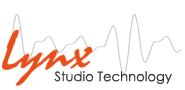 Fifteen Years of Audio Innovation.

2013 marks the Fifteenth Anniversary of the founding of Lynx Studio Technology.

Lynx Studio Technology, Inc. is a debt-free, privately held corporation that designs and manufactures professional audio products. Formed in 1998 by a team of seasoned audio software and hardware engineers, our goal is to utilize cutting-edge technology to create the highest quality products at a good value to the customer.

The Lynx team is focused on "linking" the professional and high end home audio world with computers by utilizing their many years of experience in both hardware design and device driver coding. This complementary expertise is borne out in reliable products that not only have great specifications, but are also shipped with extremely stable and well-tested drivers. Support for all Windows and Macintosh platforms are standard for all products.

Lynx's offerings, the LynxTWO, L22 and AES16 PCI cards and AES16e PCI Express cards offer the best possible performance for Windows and Macintosh computers. Aurora converters offer world-class analog and digital audio in standalone, rack mount formats for recording studios, broadcast and production facilities, live performance and audio test measurement. The Hilo Reference AD/DA Converter System provides stellar audio performance in an innovative format for professional and audiophile end users.

Lynx products have been adopted worldwide by top broadcasters, studios, performers, producers, engineers and audiophiles.

Lynx supports the retail market directly through its US and Canadian dealers and international distributors in more than 30 countries. Lynx also supports OEM's for larger quantities and custom designs.




Staff Biographies



Bob Bauman
Co-founder and Chief Hardware Engineer
Bob Bauman is responsible for hardware and firmware design and oversees production and product testing. He feels fortunate to be able to combine his music background and 30 years of analog and digital design experience to create Lynx products.

After graduating with degrees in both Electrical Engineering and Music, Bauman started his career at Soundcraftsmen designing high-end home audio gear including Class H amplifiers, preamplifiers, and equalizers. Subsequently he held various computer technology positions where he worked on projects for NASA and the medical industry. At Antex Electronics he designed computer audio cards and accessories for the broadcast market.

Bauman began playing drums at a young age and worked in nightclubs while attending college. Nowadays, he satisfies his right brain with jazz jams in the Lynx studio.


David A. Hoatson
Co-Founder and Chief Software Engineer
David brings to Lynx his passion for music and audio electronics together with 30 years of expertise in computer programming. His responsibilities include driver, mixer and utility software design and development, in addition to overseeing the web site and finances.

Prior to co-founding Lynx, David owned a computer-consulting firm with customers such as Antex Electronics, Applied Magic, Intel, Pacific Research & Engineering, Philips, and Western Digital. David lives in Northern Idaho with his wife Karen and two daughters.


Albert Margolis
Vice President Sales and Marketing
With over twenty years of experience in the pro audio, publication, online merchandising and retail markets, Albert brings a wide range of knowledge and a proven track record to Lynx.

Prior to joining Lynx, Albert was Director of Sales for UltimateGuitar.com handling digital advertising and sponsorship, strategic marketing and retail integration. He has also managed advertising sales for many of the top media companies active in the pro audio segemnt representing Mix, Guitar Player, Electronic Musician, the TEC Awards and others. He is also an in-demand keyboardist with many performance, recording and video credits

Having degrees in both Music Composition and Business Administration, Albert gets to combine his passions for music performance, production and business.


Paul Erlandson
Director of Product Support
Paul Erlandson is a 20-year veteran of the Pro Audio industry, with a career largely focused on computer recording technology. Paul joined the Lynx team in 2004 and oversees the Lynx customer support department. In addition to direct support efforts, Paul is active in the preparation of online and print support materials.

Prior to Lynx, Paul was the Direct or Sales for Carillon USA and Owner/CEO of Sound Chaser, an online retailer and manufacturer of custom computer audio systems.


Suann Daniels
Materials Manager
Suann joined our team in May 2006, bringing 13 years of experience in purchasing and materials management. She began her career in banking and moved to the growing electronics industry in 1993.

Suann has worked for Richey Electronics and ESCO Electronics in product management and inventory control positions. At Lynx Studio Technology, her job functions include – purchasing, inventory control, production planning and accounting.




Mike Nicoletti
Sales and Support Coordinator
Mike was born too many years ago to admit in a small town called New York City. He received a degree in Political Science from NYU and completed a year at Fordham Law School before taking a year's leave of absence to attend the Institute of Audio Research to be trained in his true passions: audio engineering, mastering, and early digital technology. Before completing that course, Mike was hired by Unique Recording Studios, where he cut his engineering teeth and assisted or engineered on sessions of clients as diverse as Billy Ocean, Melba Moore, Edgar Winter (for which he got credit for backing vocals), Motley Crue, James Brown, The Force MDs, Afrikka Bambaataa and Stevie Nicks.

After Unique, Mike went on to engineer at other studios in NYC until he was hired as the R&D Recording Engineer in 1987 for Yamaha's new R&D facility on West 57th Street where he and other staff received product feedback and ideas from customers, tested new products and software and held recording sessions for select clients. Yamaha's recording studio was a favorite location for CNN's Science and Technology segments which Mike appeared on a number of times. Mike relocated to sunny Southern California in 1991 to handle sales and support for Yamaha's new Pro Digital Department, handling the latest Yamaha digital mixers and recorders.

Mike has also been the tech support manager at Apogee Electronics and Alesis and returned to Yamaha to manage tech support and service for Commercial Audio. He joined Lynx Studio Technology in 2008 as the Sales & Support Coordinator, assisting the sales and support departments with day to day activities as well as helping engineering with driver and firmware testing.

Mike still enjoys some engineering in his spare time as well as songwriting and playing in his band Underhanded.

He still has not told Fordham that he is not returning.